Upgrade your space with our professional window replacement service. Experience improved aesthetics, energy efficiency, and comfort with our expert window solutions.
Transform your workspace with our professional office glass partition installation service. Create a modern, open, and collaborative environment that enhances productivity and aesthetics.
Upgrade your outdoor living space with our sliding patio door installation service. Enjoy seamless access to your patio, enhanced natural light, and a stylish addition to your home.
THE WESTLYN WARRENVILLE, IL
NATIONAL PUBLIC HOUSING MUSEUM & RESIDENCES
PULLMAN NATIONAL MONUMENT ADMIN. BUILDING & VISITOR CENTER
WINNETKA, IL VILLAGE HALL
LAWNDALE CHRISTIAN LEGAL CENTER: MAC HOUSE
THE WESTLYN WARRENVILLE, IL
NATIONAL PUBLIC HOUSING MUSEUM & RESIDENCES
PULLMAN NATIONAL MONUMENT ADMIN. BUILDING & VISITOR CENTER
WINNETKA, IL VILLAGE HALL
LAWNDALE CHRISTIAN LEGAL CENTER: MAC HOUSE
Savocchi offers a wide selection of windows and doors from trusted brands, providing customers with a diverse range of options to meet their needs and preferences.
The company specializes in window replacement, offering high-quality, energy-efficient windows that can improve the look, comfort, and energy efficiency of a property.
Savocchi provides a variety of window materials, including aluminum, steel, wood, vinyl, and fiberglass, catering to different styles and requirements.
In addition to windows and doors, Savocchi also offers glass shower partitions and glass railing installations, providing stylish and modern additions to properties while maintaining functionality and safety.
With over 74 years of experience in the industry, rely on Savocchi for their expertise in providing top-notch glazing services. Our team stays up to date with industry trends, ensuring that we're always aware of the latest advancements and innovations in the field. We follow the best practices in the industry, utilizing innovative techniques to deliver exceptional results for our clients.
At Savocchi, we believe in the power of case studies and customer testimonials. We've worked with numerous clients and have a proven track record of success. Our case studies showcase the transformations we've achieved for various properties, highlighting the impact of our services on energy efficiency, aesthetics, and overall comfort.
Customer testimonials speak volumes about our commitment to customer satisfaction. We take pride in the positive feedback we receive, as it validates our dedication to delivering top-quality glazing services. When you choose Savocchi, you can trust that you're making a wise investment in your property.
74 Years of Glazing Expertise: Choose Savocchi for Excellence
Savocchi has 74 years of industry experience.

We have a proven track record of success.

We focus on customer satisfaction.

Trusted Partner for glass solutions.
Savocchi Glazing Services
Are you looking for top-notch glazing services for your residential property? At Savocchi, we offer a range of residential glazing solutions to meet your needs.
Here are some of the services we provide:
Energy efficient windows: Upgrade your home with high-quality windows that can save you money on energy bills while improving the comfort of your property.
Window repair services: If you have damaged windows, our expert technicians can provide repair services to restore their functionality and appearance.
Window replacement options: Replace your old, outdated windows with modern, energy-efficient ones that enhance the look and value of your home.
Custom glass installations: We offer custom glass installations for shower partitions, railings, and more, providing a stylish and modern touch to your property.
Trust our experienced team to deliver exceptional residential glazing services that meet your specific requirements. Contact us today to learn more and get started on your project.
Frequently Asked Questions
What Are the Benefits of Upgrading to High-Quality, Energy-Efficient Windows and Doors?
Upgrading to high-quality, energy-efficient windows and doors offers numerous benefits. You'll experience energy savings as these products are designed to reduce heat transfer and maintain a comfortable temperature inside your home or business.
Additionally, they provide noise reduction, allowing you to enjoy a quieter and more peaceful environment.
Upgrading can also increase the value of your property, enhance its curb appeal, and improve indoor comfort by reducing drafts and improving insulation.
H3 What Are the Different Materials Available for Windows and Doors, and How Do They Differ in Terms of Durability and Maintenance?
When it comes to window and door materials, there are several options to consider. Each material has its own pros and cons in terms of durability and maintenance. Factors like climate and exposure to elements can also affect the longevity of windows and doors.
Aluminum windows are known for their strength and low maintenance, while wood windows offer a classic look but require more upkeep. Vinyl and fiberglass windows are popular for their energy efficiency and easy maintenance.
It's important to choose the material that suits your needs and preferences.
Can You Provide Custom Solutions for Windows and Doors to Match the Existing Style of My Property?
Yes, we can provide customized solutions for windows and doors to match the existing style of your property. Our team of experts will work closely with you to understand your aesthetic preferences and integrate the design seamlessly into your property's style.
We offer bespoke window and door designs, tailored to your specific needs, and a wide range of glazing options to choose from.
You can trust us to deliver personalized solutions that enhance the look and feel of your property.
What Types of Glass Partitions and Railings Do You Offer, and How Can They Enhance the Look and Functionality of My Property?
Glass partitions and railings can greatly enhance the look and functionality of your property. With a variety of glass partition options and railing designs available, you can create a modern and seamless feel to your space.
Glass partitions provide an open and spacious atmosphere, while glass railings offer safety and functionality without obstructing the view.
Our expert technicians at Savocchi specialize in glass partition installation, ensuring a seamless and stylish addition to your property's aesthetics.
Do You Offer Emergency Repair Services for Broken Windows and Doors?
Yes, we offer emergency repair services for broken windows and doors. Our team is available 24/7 to provide immediate assistance and ensure the security of your property.
We understand the urgency of these situations and will promptly address any issues you may have. Upgrading to high-quality, energy-efficient windows not only improves the look of your property but also saves you money on energy bills.
Trust us to provide top-notch repair services and help you enhance the functionality of your windows and doors.
Explore the voices of satisfied customers and discover the real impact of our services through heartfelt testimonials.
10 months ago
Positive: Professionalism, Punctuality, Quality, Responsiveness I couldn't be happier with my Savocchi experience. Marsha was outstanding. The scheduling and quoting process was painless and accurate, furthermore they went out of their way to accommodate my crazy schedule. The replacement of the glass was neat and efficient. We have 99 year old windows, and Dimitri was gentle and very mindful of protecting the integrity of the window structure. They have a customer for life. Services: Glass installation, Window frame repair & replacement
10 months ago
Positive: Professionalism, Punctuality, Quality, Responsiveness, Value After the first place I called left me high and dry, I called Savocchi. I actually got to talk to a real person!! The owner came out and did measurements and the office sent me a reasonable estimate so I went ahead. They took a deposit, which was quite reasonable, the balance would not be due until I was satisfied with the job.. the gentleman came and was super professional, and was done in about 40 mins. Will definitely use again and will recommend. Services: Sliding glass door installation & replacement, Glass installation
a year ago
Positive: Professionalism, Punctuality, Quality, Responsiveness, Value We had a great experience with Savocchi. Marsha was very responsive to our questions and calls.  The installers were very professional and cleaned up their work areas.  We will use Savocchi again. Service: General window replacement
a year ago
Got my mom's house done they were very well professional! Came on time got the job done within the same amount of time expected! Very well will refer them to others! They had the expectations I needed and the windows I really wanted! Thanks awesome team you have!
 Savocchi will get your job done
In conclusion, when it comes to upgrading your windows and doors, Savocchi is the trusted choice. With our extensive experience and expertise, we offer a wide range of high-quality products and services to meet your needs. Our dedicated team of professionals is committed to ensuring your satisfaction and transforming your property into a comfortable and efficient space. Contact us today and let's help you make the right choices for your glazing needs.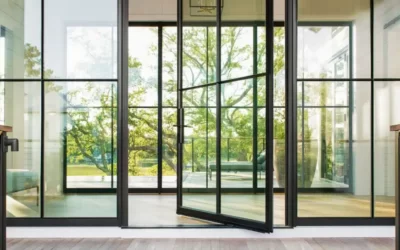 Nov 9, 2023
WINDOWS
Arcadia doors are excellent for boosting the appearance of any room and are...