At Savocchi we offer a wide range of new and replacement windows. When it comes to selecting the right windows for your home, you have to choose the right frame material, architectural details, glass thickness and makeup, operability, and finally color.
The window products range from vinyl, wood and aluminum window frames. Manufacturers like Quaker, Sierra Pacific, Arcadia Custom, and Orama View can offer all imanagible window solutions for your home.
Awning windows are hinged on the top and open outward from the bottom, allowing for ventilation and protection from the rain. Often placed higher on walls for privacy or in combination with large stationary windows for a better view.
Casement windows are hinged on the side and crank open outward to the side allowing for full top to bottom ventilation. Common above kitchen sinks, casement windows give you the flexibility to group them in stunning combinations.
Double-Hung windows have two operating sash that move up and down allowing for ventilation on the top, bottom or both.
A storefront is a glass structure with display windows at the entryway of an office space or a retail store. The display windows are designed to attract attention to the building and let people know what it has. Storefronts are made from a combination of wood or aluminum framing and glass. They are durable, economical, and come in any style, shape, and color. They add beauty to a property, making it aesthetically appealing, and offer security to your business space.
Single-Hung windows allow ventilation through a single operable lower sash. Both offer easy cleaning from inside your home and remain flush with the wall, making them ideal for patios or walkways.
These windows are also called multifunctional. They allow you to open the entire window inwards. They also have a ventilation function, that allows to tilt the top of the window open.
These windows are stationary and do not open. This makes them more energy efficient and allows for larger sizes than a window that vents. Often used in combinations to maximize the view.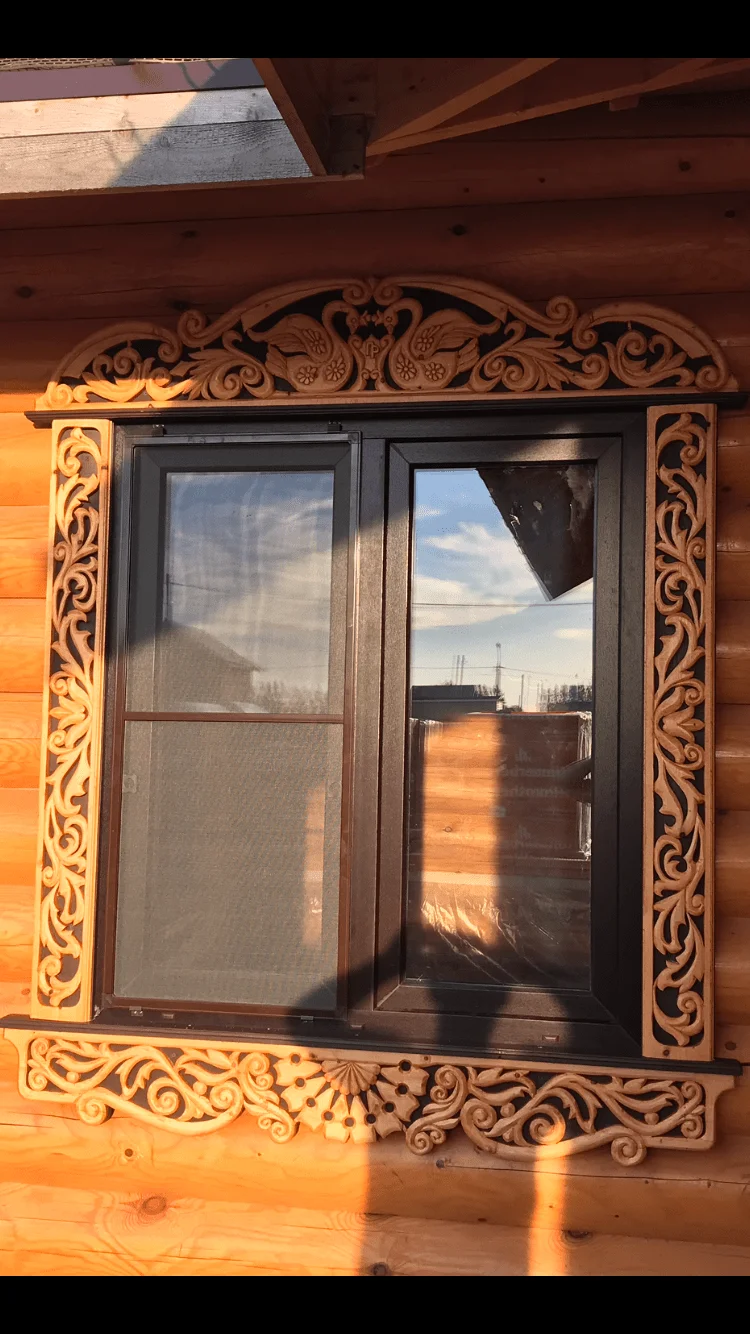 Economical way to upgrade your windows and improve the energy efficiency, reduce noise and upgrade the exterior appeal of your home.
Typically used to restore a historic home. Wood windows offer the most versatile exterior and interior design features since the wood craftsmen can recreate any historic architectural detail. If your house has a historic or a landmark designation and needs to restore a few windows or the entire house, wood windows might be a great choice.
WOOD WINDOWS WITH ALUMINUM CLAD EXTERIOR
Designed for harsh climates where windows have to protect your family from cold and windy winters and hot summers. Aluminum exterior cladding protects the wood frames from deterioration and decay. Aluminum is usually painted to meet AAMA 2604 or AAMA 2605 standards. The wood interior provides a warm wood interior and great design options.
Aluminum frames are designed to last for many decades and require minimal maintenance. Aluminum windows allow you for increased window sizes and modern or contemporary architectural designs.
Ultra luxury window option that has no compromise in quality, longevity and esthetics. If you are looking to replace existing steel windows or install new steel windows in your home, consider windows made from stainless steel with a thermal break. Steel windows have been regarded as a luxury item but provided minimal protection in the cold winter season. The times have changed and technology has as well. We can offer you steel windows that use state-of-the-art technology and a patented system to bring all the best features of the modern windows.
OTHER WOOD WINDOWS OPTIONS
Options are abundant. Consider low-e glass, noise reducing glass, burglary resistant glass, bullet proof glass
You should decide if you want your windows to have a touch with the classic, timeless charm of simulated divided lite. Go with a traditional look or branch into a modern approach with the square lines of our more contemporary grilles. Even get creative and add a 2″ horizontal bar on your casement to give it the appearance of a classic double hung. Whether it's a standard pattern or a custom vision you have, we offer unlimited ways to divide up both large and small expanses of glass.
You usually have a wide choice of hardware designs and colors. You should as your window consultant to show you all available hardware types, colors and finishes.
Modern day windows can be painted, stained or anodized depending on exterior material.
The interior finish depends on the frame material you choose. All aluminum windows are usually painted one color inside and outside. Vinyl windows are typically unpainted interior and the color is a natural vinyl color. The wood interior windows have the most paint and finish options. You may choose to stain your windows or paint in any color.
The U-Factor measures how well the window insulates. While the U-Factor can take any value, in general for windows it ranges from 0.09 to 1.20. The lower the U-Factor, the better the window insulates.
SHGC measures sun's heat, influencing window transparency and interior warmth.
The SHGC measures how much of the sun's heat comes through the window and heats the interior.
Savocchi offers the best glazing solutions for your commercial property in Chicago. We offer fabrication and installation services using high-quality materials approved by Passive House PHIUS. We offer our services in Chicago, IL, such as Lake Street and Fulton Market.
You can call us now on +1 (847) 446-3340 or +1 (888) 446-3340 to book an appointment or visit us at our office in Glenview, Illinois. You can also visit our website to get a free estimate.